We were founded in 1991 by NASCAR Winston Cup pit crew member and Legends Series driver Brian Doby to serve the needs of everyday car owners and enthusiasts.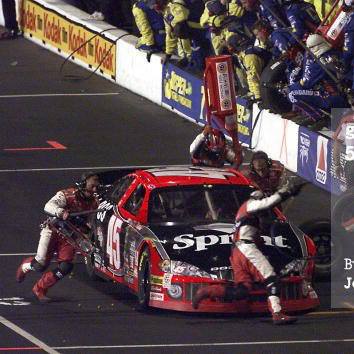 Brian grew up in the southern tradition of short track racing and long nights in the garage getting cars tuned up for the next weekend. With a natural drive to reach for the top of everything he does, Brian climbed through the NASCAR ranks to eventually join Roush Racing (1997 to 1999) where he served as pit crew jack man for the Johnny Benson #26 Cheerios Winston Cup team and the Jeff Burton Track Gear Racing Busch Series team.
In 1999 Brian joined Petty Enterprises where he was the jack man for the Adam Petty #45 Spree Busch Series team and the Sprint PCS Winston Cup team. After the tragic death of Adam Petty in May of 2000, Brian served as Kyle Petty's jack man for the remainder of the 2000 season. He continued with the Kyle Petty #45 Winston Cup team during the 2001 and 2002 seasons.
After retiring from Cup racing, Brian put together the #45 and #44 Doby Shell Legends racing teams. He drove for several years in regional Legends events in the Carolinas and Virginia.
Brian continues to take an active role in managing the day-to-day operation of the Service Center where he'll see to it that your car receives the best of care. If you need a U-Haul rental truck or trailer, you can rest assured it has been properly checked and is ready for the road.
NASCAR and Sports Memorabilia
As a retired over-the-wall pit crew member and lifelong NASCAR fan, Brian turned his love for racing and sports into a collectibles business. Check out our current offerings on eBay.
Firearms
Brian's lifelong interest in hunting, sport shooting, and gun collecting resulted in the creation of Brian Doby Firearms.